Investment opportunities abound in Ghana, especially in the area of trade. Wouldn't it be great if as a new market entrant, starting a business in Ghana, you knew exactly what product(s) to import into Ghana? Have a quick turnaround and gain market share before other businesses enter the market? The major issue for traders entering any new market is to gain insights into spending and consumption patterns of consumers. Spending patterns are a defining factor in understanding demand and consumption levels within a country.
For the manufacturer or importer already operating in Ghana, how will you position yourself to beat the competition and increase your market share within the free market economy?
Imports are a direct response to market demand and economic expansion; hence over time, the spending and consumption patterns of Ghanaians inform the type of products that are imported into Ghana and also creates viable investment opportunities for prospective investors.
The average duty rate in Ghana is 20% for final consumer goods, excluding VAT of 17.5% and other Port charges.
Ghana has not been left out in the retail boom across Africa. Consumption has increased over the last few years and this has been attributed a growing middle class with increasing spending money.
So what are the Ghanaians spending on? Ghanaians are spending on everything, from food products healthcare products, apparels, electronics to building hardware. Analysis of trade data for the past 5 years (2011 -2016) reveals that food commodities, home and personal care products and beverages are among the leading imported products classes in Ghana.
Investment opportunities in Ghana – List of 35 leading imported products 
Food commodities
Products: Rice (different broken sizes), Wheat, Fish frozen, without fillet, Frozen cuts and offal of fowl, Frozen mackerel and sardine, Tomato paste, Sugar, Edible oil, Margarine, Milk and cream and Canned mackerel.
Insights: Food commodities are the biggest bracket of imported products into Ghana. The products in this segment are highly priced sensitive. The Lebanese, Indians, and Chinese are the major players in this market space. The key to success in the food commodities market is price competitiveness and quality.
Beverages
Products: Undenatured ethyl alcohol, Malt drink, Energy drink, Whisky, Waters (incl. mineral and aerated), with added sugar, sweetener, Alcoholic wine, Cider beer, Beer made from malt, Liqueurs, and cordials, Champagne and sparkling wine, Carbonated soft drinks, Vodka
Insights: Within this space, Ghanaians are open to trying new brands, given good pricing and quality. Alcohol consumption occupies the highest percentage of beverage imports however local alcoholic beverages produced by Accra Brewery, Guinness Ghana Limited  Kasapreko, GIHOC and other notable companies offer a stiff competition for any imported alcoholic beverage.
Home and Personal care
Products: Ceramics (glazed & unglazed for walls, floor and roofing), Worn clothing, Footwear( including sports footwear), Ceramic sinks, wash basins and other sanitary fixtures , Toughened safety glass, Unframed glass mirrors, rear view mirrors, Household and toiletries articles, Diapers, Napkins and napkin liners for babies, Human hair, Glass (polished, engraved)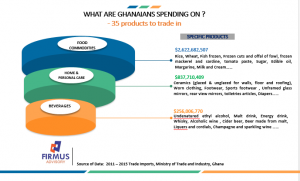 Insights: Home and personal care products are imported from several countries in Asia, Europe, and the Americas. For example, China has been the major source of imported ceramic into Ghana, whiles UK and Italy are major players in the ceramic wash basin, sinks and sanitary fixtures. Again price, more than any other factor plays a major role in market success.
Market strategy for Ghana
These products are in high demand, however, the ability to source the products (good quality) at competitive prices and have a long term strategy will determine your market success.  Majority of Ghanaians fall within the middle to low-income class and so the price comes first in deciding what to buy.
You would also realize that a good amount of trading in consumable goods is carried out on credit basis. Most large to medium wholesalers with good distribution outlets will want to trade with you on credit. In all you do, have a strategy for credit.
According to report by AT Kearney, a global management consulting firm, Ghana's retail industry is characterized by an emerging shopping culture, a mix of dry and fresh groceries, widening assortments, price, service, and quality gaining importance to buyers.
As an investor looking to invest in Ghana, a good starting point in understanding the dynamics of the market is to conduct a market research regularly, spending time and also find local partners in-market.  The retail space in Ghana, like any other, is highly competitive and requires a long-term approach and the right entry strategy to succeed. Over the years we have witnessed a couple of foreign brands not able to survive the terrain due to the wrong approach to entry and looking at the market.
Looking ahead
Ghana's retail sector is expected to continue its growth trend. There will be significant growth in the formal retail space as more malls come up even though the informal/open air markets will continue to hold a strong position in the sector.
Multi-purpose commercial projects like The Exchange, Appolonia, The Octagon, The ICON and One Airport Square among others are changing the landscape and gives clear indication of the soaring consumer retail demand. The first mall in Kumasi is is now open and it certainly would not be the only mall outside the capital Accra.
E-retail is the next big thing that would catch up with the growing middle class. It is expected that this sector will grow as lifestyles keep changing and the working class keeps exploring more convenient ways of shopping.
In trying to explore innovative ways of reaching out to the Ghanaian consumer, it is important to consider through research to following dynamics:
New entrant/investor:
What product (brand, fragrance, flavor, packaging, design etc.) will be most competitive?

What is the price sensitivity, competition and demographic analysis for my product?

How connected is my target market and how do I reach them?
Existing business:
How do I understand my brand's health?

What will be the best approach to grow my market share?

How do I activate against connected commerce activities?
Now you know what Ghanaians are spending on, as far as retail consumer goods are concerned; Rice, frozen fish/chicken, edible oil, sugar, confectionaries, canned products, Alcoholic, carbonated, malted and energy drinks, Ceramics, worn clothing, footwear, toiletries, diapers, human hair, glass (polished, engraved).
It will be exciting to dig further into these product segments, to carve out your own product and market entry strategy to drive success.
[/fusion_text][/fusion_builder_column][/fusion_builder_row][/fusion_builder_container]